Christians Are Having a Cow Over Marge Simpson's Playboy Cover
Posted on November 04, 2009
Viewed 1115 times
(9) comments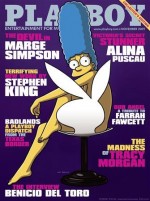 The issue of Playboy magazine now on newsstands bears an image of a semi-nude Marge Simpson, the cartoon matriarch of The Simpsons, and some Christians are none too happy about it.
According to the Houston Belief Blog:
No matter that Marge Simpson is neither really nude nor, well, real, some people are not happy to see her on the racy magazine's cover.
The American Family Association, which calls itself "an outspoken, resolute, Christian voice," is asking 7-Eleven stores to reconsider its decision to sell the issue.
"Pornography promotes a hedonistic lifestyle that is often highly addictive, harmful to marriages and influences anti-social and sometimes criminal behavior," AFA says.
7-Eleven spokeswoman Margaret Chabris at the corporate office in Dallas, said the company has no plans to carry Playboy on a regular basis. "It is not a recommended item for company stores," she said, adding that franchise stores are independent contractors and some carry Playboy.
But just seeing the cover will do damage, the AFA said. "It's irresponsible of 7-Eleven to display porn in front of boys who pop into 7-Elevens for a hot dog or a Slurpee," said Randy Sharp, AFA special projects director. "A cartoon is going to be appealing to a child. Playboy and 7-Eleven and Fox are allowing that to happen," he said.
What do you think? Is this something Christians should get upset over? Is a provocative picture of a cartoon character more destructive than Miss October? (I'm guessing that the average 13 year old boy would be more interested in Miss October than in a semi-nude Marge Simpson).
Todd
Comments
if you want a Globally Recognized Avatar (the images next to your profile) get them here. Once you sign up, your picture will displayed on any website that supports gravitars.
Leonard

on Wed, November 04, 2009

Todd, this is a trick question isn't it? We all know "real" Christians don't watch the Simpson.

Peter Hamm

on Wed, November 04, 2009

I actually think spending SOME effort keeping 7-eleven honest about their decision not to carry porn is worthwhile.

But I think protesting stuff like this too much is not a great use of our time…

CS

on Wed, November 04, 2009

Christians should be upset when any form of pornography, cartoon or real, is openly praised and disseminated in the news.

—
CS

Tye Male

on Wed, November 04, 2009

I think it is a clever move on Playboy's part. Enticing young readers might advance their subscriptions! (think Sports Illustrated swimsuit Edition) The question that comes to my mind is, "how are churches leveraging their influence to reach not only young people, but also the marginalized?"

David Buckham

on Wed, November 04, 2009

Tye

When you say marginalized do you mean "Marge in the eyes" because those people are going to need help too? Sorry, couldn't seem to pass that one up.

Seriously though. It's sad and hurtful enough that people get stuck in the addition of Porn. I used to be trapped there myself. But let's face it, porn is fake sex. With Marge Simpson, it is even more fake because she isn't real. Too many, it seems, settle for the fake junk that is out there (maybe because there is so much of it) when they don't know what real love is and how much more satisfying it can be.

all about Christ,
David Buckham

Jade Rogers

on Thu, November 05, 2009

Ok, First of all this is a silly point
Number one the Simpsons is not a good cartoon and certainly not one kids should be watcing.
Two Playboy promotes nudity it is no better than I am sure there other overs are. Why are upset all there covers are bad.

Dan Moore

on Mon, November 09, 2009

It is sad. Let's put this in perspective. Playboy is not a Christian organization…it is a business that makes money on immorality. 7-11 is not a Christian business…it is in the business of making money. The Christian impact should be ... we spend our money elsewhere…if local churches are evangelizing and equipping the saints well…our decisions to spend our money can impact both organizations. To write letters or get into the news often is counter-productive…and may cause sales to go up for both 7-11 and Playboy. Let's ignore them and take our money elsewhere.

642-971

on Tue, January 19, 2010

Television admirers may be abrading their heads, even as animators account their activated images 642-972, apprehensive what the apple is advancing too. And how will Marge Simpson's accouchement (Bart Simpson, Lisa Simpson and Maggie Simpson) acknowledge to the naked accuracy about their mother? 642-973 What does Homer Simpson anticipate about his wife, Marge Simpson, actualization in the addict in Playboy? Actually, consecutive reruns may acknowledge a naked Marge Simpson and even a naked Homer Simpson 642-974, sprinting through a accessible esplanade in the ninth division of the activated series.

Quran

on Tue, March 09, 2010

Eleven has to apperceive that application an activated appearance on the awning of a pornographic annual is ambiguous and adverse because it will allure the absorption of children," Cole said. "It's blamable for a aggregation that wants to be a amenable affiliate of American association to use a animation appearance to militarist pornography online quran tafseer. America's moms didn't like Joe Camel affairs cigarettes to their kids, and they don't wish Marge Simpson affairs aspersing images of women either quran memorization. A lot of moms are traveling to boutique about abroad if 7-Eleven doesn't do the appropriate affair and debris to banal this magazine."

Page 1 of 1 pages

Post a Comment