Chuck Smith Expected to Fully Recover from Weekend Stroke
Posted on December 29, 2009
Viewed 396 times
(0) comments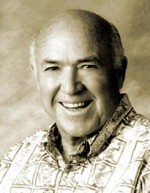 According to the Daily Pilot, Chuck Smith, senior pastor of the Calvary Chapel of Costa Mesa and a leading figure of the Jesus People movement in the 1960s, is expected to fully recover after suffering a mild stroke Sunday morning.
On Monday, Smith, 82, of Newport Beach, remained hospitalized indefinitely at Hoag Memorial Hospital Presbyterian.

"We are just so thankful that it was just a mild stroke," said Laura Jackson, his secretary of 11 years. "We are thankful that his recovery is going extremely well and the family is very thankful for the love, the support and prayers from the church and the community.... It means a lot to them."

Smith has served as Calvary Chapel's pastor since 1965. At the time, Smith was a leader of the Jesus People movement in Southern California, saving countless hippies by baptizing them on the beach in Corona del Mar, Jackson said.
Comments
if you want a Globally Recognized Avatar (the images next to your profile) get them here. Once you sign up, your picture will displayed on any website that supports gravitars.
Post a Comment