Church Sponsors Wrestling Show to Fund Missions Trip
Posted on November 04, 2009
Viewed 530 times
(4) comments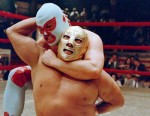 So... what do you think? Would your church ever sponsor a wrestlin' match as a missions trip fundraiser?
Here is a little more explanation from Crossroads Christian Church's blog:
Since it was announced that we would be hosting a fundraising wrestling show for the summer mission trip, there have been a lot of questions raised about it. In order to save time answering questions over and over, I want to address some of the concerns that have been raised.

Why a "wrestling show"?

Most of you know who Guy Louks is. He shared a testimony during our reunited service. What you might not know is that he has been involved in professional wrestling for many years both as a wrestler and as a promoter. He approached me with the idea of doing a show as a fundraising event for the church. Since we do not fundraising for the church, I suggested doing the event to support those going on the summer mission trip.

Is this appropriate?

While I grant you, it is out of the ordinary, there is nothing inappropriate about the event. Guy Louks and his guys have done events like this for other churches and for charities in our community. He has assured me that the show will be very family-friendly and will not cause the church any embarrassment. A wrestling show may not be your favorite form of entertainment. However, many in our community enjoy it and some of our members are involved in it.
This would not be the first time we have used our facilities for programs or events other than worship services. We have had garage sales, movie nights, and New Years Eve parties that have utilized our buildings. Some might have consider those "outside the box", but we have done them successfully and with great results.
What are the benefits?

There are several benefits to hosting the event at Crossroads.

1) It provides an outreach to a part of our community that might never even know that our church exists.

2) It provides free advertising for our church in the community even to those who do not attend the event.

3) It provides a means of raising support for our mission trip without asking for funds from the congregation.

4) It allows members of our congregation to use their talents and abilities to help support the mission trip.

5) It gives those going on the mission trip an opportunity to work for the support they receive for the trip.

What's the downside?

The only potential downside is that some might not like the idea of having such an event in the building and in the auditorium. I understand their concerns, and do consider them as having some validity. The question from my prospective is simply this. With all positive benefits of hosting the event, is anyone really harmed if we do it? On the other hand, if we don't take advantage of the opportunity, there may very well be people who might not ever come to Jesus Christ otherwise. Of course, no one knows for sure, but I think the possibility exists.

While you might not attend the event, should not the possibility of reaching just one lost person through it make as least worth attempting?
What do YOU think?
Todd
Comments
if you want a Globally Recognized Avatar (the images next to your profile) get them here. Once you sign up, your picture will displayed on any website that supports gravitars.
Leonard

on Wed, November 04, 2009

CS

on Wed, November 04, 2009

"On the other hand, if we don't take advantage of the opportunity, there may very well be people who might not ever come to Jesus Christ otherwise."

I'd love to hear that conversation:

"I came to faith in Jesus when I heard someone preaching on a street corner."

"I came to faith in Jesus when I read the Bible and a friend witnessed to me."

"I came to faith in Jesus after I saw Bonesaw set up Haystack Calhoun with a rolling DDT. Something about the way his eyes rolled back in his head it made me think about the Savior."

—
CS

Q.

on Wed, November 04, 2009

Look at C.S. bringing the humor…

We took a look at your website recently and we like what you are doing. We have some charities that we support in Ecuador and they each have their own compelling story. What we are trying to do is to help ministries in the USA organize for large scale, on-going, easily-managed fund raising to support their charities and missions. This in turn generates funds for us to support our charities in Ecuador.

If you think it's worth a post or an article on your website, maybe we can connect with like-minded Christians that our program would be a good fit for what they want to accomplish.

Take a look at our website: http://www.roses-4-life.com.

We are currently in the process of creating videos of our two main charities: (1) An orphanage for HIV infected children and (2) fund raising for 13 local schools for kids ages 2-7. Many of the schools do not the proper facilities that they should have, i.e. restrooms, school supplies, or kitchens all of which are greatly needed.

Sincerely.
Cedric Willis
Roses-4-Life

Page 1 of 1 pages

Post a Comment