Have You Ever Experienced "THE WAVE" in your Ministry?
Posted on November 09, 2009
Viewed 701 times
(0) comments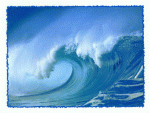 What is THE WAVE? Craig Groeschel describes it as "when God seems to do more than you can handle!"
According to Craig, during the wave, your buildings aren't big enough, you can't hire fast enough, you're just hanging on for life.
Craig's starting a series on THE WAVE over at the Swerve blog this week that should be really good. He starts today with some simple points:
1. The wave won't last forever. Harness it's power while you can.
2. You can work with the wave or fight against it. Many leaders try to slow down what God is doing because they're scared they won't keep up.
3. The wave doesn't happen because of something you do, it happens because God causes it.
Take a look at more of Craig's thoughts here.
I'm wondering... have you ever experiences THE WAVE in your church or ministry? Take a moment to tell us (in the comments section) when you first realized you were riding the wave, and how you handled it? Then, how did the wave end (or has it)? How long did it last?
Comments
if you want a Globally Recognized Avatar (the images next to your profile) get them here. Once you sign up, your picture will displayed on any website that supports gravitars.
Post a Comment