Local Church's Outreach "Specializes in Dementia"
Posted on January 07, 2010
Viewed 621 times
(5) comments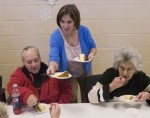 Just $5 an hour will give a little respite to family members dealing with an elderly family member dealing with Alzheimer's Disease or Dementia. That part of a ministry at Riverside Park Church of God. From 7:30 a.m. to 5:30 p.m. every weekday, Riverside gives caregivers a needed break by offering a 'jam-packed' day that includes discussion, reminiscing, exercises, games, and one-on-one loving care.
According to a report on HometownLife.com:
"We specialize in dementia," said Justin Zarb, director of the Livonia church's adult day care ministry. "Taking care of someone in advanced stages of Alzheimer's gets to be challenging. Caregivers need a break."
Zarb said not all seniors who attend adult day care have dementia or Alzheimer's but the ministry is designed to meet those specialized needs.
Open from 7:30 a.m.-5:30 p.m., weekdays, the Riverside program costs $5 an hour for a "jam-packed" day that includes discussion and reminiscing, chair exercises, sports games — a recent session had seniors playing tabletop bowling — lunch, snacks, bingo and other activities.
The focus is on "empowerment," allowing attendees to engage in supervised activities and tasks that will help them achieve success.
"What we find is they come out of their shells," Zarb noted. He said sometimes caregivers may strengthen a loved one's feeling of helplessness by constantly diverting their attention and discouraging their participation in simple tasks.
A son or daughter, for example, might prohibit their elderly mother from helping to wash dishes at home, even though she has lifelong experience in the kitchen.
"If you're always stepping in, it becomes an indignity. It makes them feel helpless. The key is to give them successful things to do," Zarb said.
Comments
if you want a Globally Recognized Avatar (the images next to your profile) get them here. Once you sign up, your picture will displayed on any website that supports gravitars.
Richard

on Thu, January 07, 2010

That's probably the coolest thing I've ever heard. Kudos to Riverside for that!

Fred

on Fri, January 08, 2010

I love to see a church actually doing something to help others!

We've looked into a couple of these for my dad, and the church's cost seems more or less in keeping with the "professional" or for-profit elder care centers (albeit on the cheap side for some areas). At the risk of being a wet blanket, I'll say the church would be much more a testament to Christ if they offered this service for free.

Sgillesp

on Mon, January 11, 2010

Milton, I can imagine your struggle in looking for such a place. We are thinking about starting up such a ministry, but we would never have the money to offer it for free, when you consider the kinds of facilities adaptations, insurance and the kind of professionals we would need to run it. $5 is a lot less than standard babysitting rates for kids around here; it seems like a bargain.

I'm certainly not faulting anyone for offering a service and charging for it, but my point is that services, even not-for-profit ones, are fundamentally different from ministries. I realize that's a distinction not everyone makes, but there is a difference.

I hope your church does begin offering such a service, Sgillesp. Charges vary widely by degree of service and cost of living in the area. In Middle Tennessee you can find a basic eldercare service for less than $30 per day. In the much-more-expensive suburbs of Philadelphia, we had my dad in a Cadillac-quality facility for about twice that price.

Page 1 of 1 pages

Post a Comment