Piper - Driscoll Slapdown: Would you love "The Meaning of the Pentateuch"?
Posted on November 11, 2009
Viewed 1136 times
(12) comments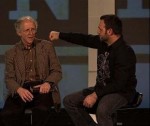 A little fun loving going on between Mark Driscoll and John Piper over, of all things, the Pentateuch...
(And for those of you who say that we never talk about anything "Bible" here at MMI, you're wrong).
(And yes, I do know what the Pentateuch is).
Anyway, John Sailhamer has a new book out entitled "The Meaning of the Pentateach". Here's what Driscoll had to say about it:
Only the hardcore uber geek theological types who love footnotes will care, but John Sailhamer's The Meaning of the Pentateuch & Andreas Kostenberger's A Theology of John's Gospels & Letters were just released. For both of you - enjoy.
That got a quick reponse back from John Piper at his blog:
Emphatically, no. To all pastors and serious readers of the Old Testament—geek, uber geek, under geek, no geek—if you graduated from high school and know the word "m e a n i n g," sell your latest Piper or Driscoll book and buy Sailhamer.
There is nothing like it. It will rock your world. You will never read the "Pentateuch" the same again. It is totally readable. You can skip all the footnotes and not miss a beat.
So... without reading the book (I doubt many of you have yet)... whose are you guessing is right on this one? John Piper with "it will rock your world" or Mark Driscoll with "you'd have to be a uber geek" to enjoy this book?
Take just a second to vote below...
Comments
if you want a Globally Recognized Avatar (the images next to your profile) get them here. Once you sign up, your picture will displayed on any website that supports gravitars.
Peter Hamm

on Wed, November 11, 2009

dead on serious… I would LOVE to read this book! This kind of thing just lights me up!

Richard H

on Wed, November 11, 2009

I believe Piper has a PHD in biblical studies - and Driscoll doesn't. I've learned by experience that you can't trust a PHD on what is readable for ordinary people. (Since I have one I can say that from my own experience.)

Richard H

on Wed, November 11, 2009

I should add that I have added it to my wish list. I sure wish I (a) had more book shelf space, and (b) could read faster.

CS

on Wed, November 11, 2009

I wish that there was a greater focus on high theology for the average Christian because, guess what, it's all relevant. I'm with Piper's assertion.

—
CS

Richard H

on Wed, November 11, 2009

Oh I agree with you 100%, CS. I'm just skeptical (cynical?) that "ordinary people" would actually do it. I think they OUGHT to, but my thinking so doesn't seem to accomplish much.

Christopher Fontenot

on Wed, November 11, 2009

If professing Christians would spend one-fourth of the time they waste on Twitter, FaceBook, and TV, their growth in and their love for the Word of God would expand (I believe) four-fold. Scripture knowledge takes discipline, work and dedication. It is not easy but it is immeasurably rewarding. I too am with Piper.

Steve

on Thu, November 12, 2009

What's the point of voting on a book that we haven't read yet? We know almost nothing about it from this post.

Richard H

on Thu, November 12, 2009

If the question is, "Is it a good thing for followers of Jesus to read difficult books that will challenge them and increase their faith and understanding," the answer seems obvious. Yes!

If the question is, "Is it likely that most followers of Jesus will (a) actually read this kind of book, and (b) understand the scholarly langauge and manner of this kind of book," MY answer, based on experience, is "probably not."

Todd Rhoades

on Thu, November 12, 2009

You guys are taking this WAY too seriously.

Todd

Shawn

on Thu, November 12, 2009

My take on this was that they both have the same opinion of the books. This one of the things that bring Piper and Driscoll together, their love of the deeper things of God. Driscoll regularly recommends books that most people wouldn't find interesting, yet he encourages them to read them. He is referring to himself as that "uber-geek". Piper is merely encouraging him to not make so light of it. Different personalities encouraging different audiences to read these two books. Got my attention.

My take on this was that they both have the same opinion of the books. This one of the things that bring Piper and Driscoll together, their love of the deeper things of God. Driscoll regularly recommends books that most people wouldn��t find interesting, yet he encourages them to read them. He is referring to himself as that ��uber-geek��. Piper is merely encouraging him to not make so light of it. Different personalities encouraging different audiences to read these two books. Got my attention.

It is really an interesting discussion between them..

Thanks for sharing…

Page 1 of 1 pages

Post a Comment