Ted Haggard Starting a New Church in His Colorado Springs Home
Posted on November 05, 2009
Viewed 1375 times
(15) comments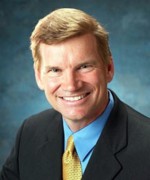 It all starts November 12 at the Haggard residence, just blocks away from New Life Church.
Haggard: "We wanted to do something in our house to connect with friends."
According to the Colorado Springs Gazette:
Haggard will hold his first gathering at 7 p.m. Nov. 12 at his house at 1865 Old Ranch Road. He referred to it as a "prayer meeting," but said it would also be correct to call it a church. The gathering will include music and an offering to New Life Church. Haggard also will give a talk about the power of prayer.
Although Haggard said just recently he had no plans to start a church, he changed his mind two weeks ago after talking to a friend in Florida who was involved in prayer meetings.
Haggard anticipates that 10 to 20 people will show up, and said he has no expectations of building his new enterprise into something on the scale of New Life.
"For this prayer meeting, I have no goals," he said. "I have no secret hope that more people will come. I am not driven as I was. Before I focused on the Great Commission. Now I focus on helping other people."
Makes me want to buy a plane ticket. Not.
Todd
Comments
if you want a Globally Recognized Avatar (the images next to your profile) get them here. Once you sign up, your picture will displayed on any website that supports gravitars.
Rusty

on Thu, November 05, 2009

Wish I could have gotten an article in the paper when we launched our church in our house?

Dave

on Thu, November 05, 2009

"service" will include an offering to New Life Church. If New Life accepts this donation are they endorsing this as a ministry of their church and does that mean they view his restoration as complete?

Grady Bauer

on Thu, November 05, 2009

So he denied everything…and then admitted it. He entered a 5 year restoration program…and then quit after 2 years. He agreed to not start a church near New Life….denied starting a new church…and is now starting a new church.

Sounds like he's got it all together and is ready to Pastor again! (dripping with sarcasm)

Gary Humble

on Thu, November 05, 2009

CS

on Thu, November 05, 2009

Haggard still fails the requirements for pastor as outlined in 1 Timothy and Titus. Therefore, he should not be starting any sort of, "church," in his home. He needs to repent and stay away from a church leadership role. End of story.

—
CS

Leonard

on Thu, November 05, 2009

Sadly CS, it is not the end of the story… Todd, lets make a 1 year not Ted rule here.

David

on Thu, November 05, 2009

I read the post from the Gazette and was amused by C. Peter Wagner's comment ... �My reservation is that he has not followed through completely on apostolic protocol,� Wagner said Wednesday ... It figures Peter wouldn't be able to make a statement without promoting the 'apostolic' stuff again. Wasn't it him and Rick Joyner and others that 'aligned' themselves with Todd Bentley in a huge display of 'apostolic-ness' ... and apparently he has already been 'restored' enough for them to feel it's okay to be back in 'ministry.'

When something is wrong
What is the godly reponse?
It's prayer, not judgment
Matthew 7:1-2

CS

on Thu, November 05, 2009

Christian Haiku:

Interesting style of writing—I'm game.

Pastor on Oprah,
Said he lived a life of sin.
First Timothy: Nope.

—
CS

Fred

on Thu, November 05, 2009

While he was living in the worst sin he was giving everyone at his church a big toothy grin, preaching sermons about living right for God, baptizing people, telling people to be strong in the Lord, writing books about living right before God and etc.
How could anyone still want to listen to him? The only person he wants to help is Ted.

Peter Hamm

on Fri, November 06, 2009

CS just made me
laugh coke through my nose again
please stop the haiku…

Adam Lehman

on Mon, November 09, 2009

Not enough information to comment. No real point here other than to use Ted's name.

The Christian gossip starts up on Monday Morning Insight. Just one day after we gathered together to worship….

Rob

on Mon, November 09, 2009

My first gut feeling is that TH lacks integrity and has motives that are perhaps impure….....why would you want to start something like a prayer meeting when you know that it will take people away from NL Church and be a potentially divisive "group". Groups that start like this are almost always divisive in the long run.

Ken

on Mon, November 09, 2009

Andymcadams

on Tue, November 10, 2009

This isn't exactly a new story. Do any of us remember a couple of guys name Jimmy? It seldom matters what the process of restoration that has been placed on these men, what they can always hide behind is what they think (and I do mean think) God told them to do. They end up being a wart on the church's back…but they don't normally care because they have their place to preach again. I wonder if they even consider the fact that people on the fringe look inside and end up saying…"church? No thanks".

I agree with Gary…"puke me". Not exactly sure what that means but it does seem to express my feelings about this.

Page 1 of 1 pages

Post a Comment