That Thief Stole My Bible!
Posted on January 13, 2010
Viewed 468 times
(1) comments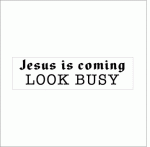 According to the Times-Gazette: A Bible, backpack bearing a "Jesus is Coming" patch, acoustic guitar, digital camera and eight blankets were stolen from a car at Legacy Apartments.
Be watching this Sunday at church for a "Jesus is Coming" backpack sticker. If you see it... I think we have our thief!
Comments
if you want a Globally Recognized Avatar (the images next to your profile) get them here. Once you sign up, your picture will displayed on any website that supports gravitars.
What is a terrible thing! It makes me remmenber that I lost my drew brees jersey last sunday.

Page 1 of 1 pages

Post a Comment