Twitter Bible (No Kidding) Summarizes Bible in 4,000 Tweets
Posted by:

Todd

Posted on:

Fri, October 16, 2009

Viewed 402
(1) comments so far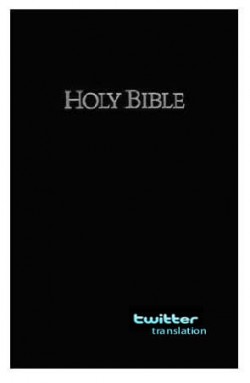 A new so-called "Twitter Bible," which summarizes the over 31,000-verse Bible into nearly 4,000 short-form tweets, is being released at the Frankfurt Book Fair this week.
According to The Christian Post, this project was formerly named And God Decided to Chill. The German language book is the compilation of tweets by more than 3,000 German Christians who participated in the church project earlier this year.
In honor of the Pentecost holiday, German Christians used the micro-blogging service Twitter to summarize 3,906 Bible sections into 140 character messages, according to Berlin-based newspaper "The Local." Though the project was scheduled for May 20-30, it was completed 37 hours ahead of schedule and achieved a world record.
The tweets were sometimes entertaining, such as the tweet describing God's day of rest after creation: "Thank God! It's Sunday!"
Comments
if you want a Globally Recognized Avatar (the images next to your profile) get them here. Once you sign up, they will displayed on any website that supports them.
David

on Tue, October 27, 2009

This may be taking the whole concept of paraphrasing a little too far.

Page 1 of 1 pages

Post a Comment