Today's Buzz: Fellowship, Hillsong, Lightning, Mark, Emergents, and Mustaches…
In today's buzz... Fellowship is adding another Dallas-area campus; the largeness of Willow Creek; Lighting stikes one church three different times; Hillsong; a great comic; the finger mustache virus; and word out to Mark...
Fellowship Church Adding new Fort Worth Location
Fellowship Church of Grapevine is expanding to the near west side of Fort Worth. The megachurch has purchased a four-acre site including a former restaurant building on Carroll Street across from the Montgomery Plaza redevelopment. Fellowship already has satellite churches in Plano, Dallas, North Fort Worth, and Miami, Florida. Source.
Just How Big and Financially Transparent is Willow Creek?
Apparently, very… Willow Creek Community Church draws 21,000 regular weekend worshipers to its main headquarters and a few smaller regional affiliates. Its CFO, Brian McAuliffe, willingly released a copy of its latest audited financial statement. Its combined financial statement for 2006 and 2005 details investments and assets held for endowment (over $12.6 million in money market funds, certificates of deposit and government securities—safe, conservative investments). Revenue in 2006 included almost $37 million from contributions alone with a total flow of over $45 million. Expenses show where the money went, with $22 million being spent on worship and programming, which includes staff and operating costs for services plus amortization for buildings and equipment. Source.
Is God Trying to Tell Your Church Something?
Two lightning strikes on the same day didn't topple the steeple of the 117-year-old Newman United Methodist Church but they exposed something that might have. They blew out the siding and exposed dry rot that might have brought the steeple down. The Methodist Episcopal Church, Newman United's predecessor, was hit by lightning in 1888. Source.
Hillsong Conference Coming to America for the First Time...
More than 5,000 pastors, youth leaders, worship leaders, musicians and students from around the world will gather for the Hillsong United Conference in Orlando, Fla., this fall. For the first time, the popular Australian modern worship band is bringing its popular youth events to North America this year, with the Orlando event slated for Nov. 9-10. The Hillsong United Conference will feature two days of speaker presentations, teaching and concerts. The conference will focus on the subjects of worship and justice and equipping young people to bring both to their communities. Source.
Word Out to Mark
Hey Mark… how's it going? Just in case you forget your lines...
I Love This...
My thanks to Steven Shields at Faithmaps for this. As he says… of course it's a caricature; it's a cartoon!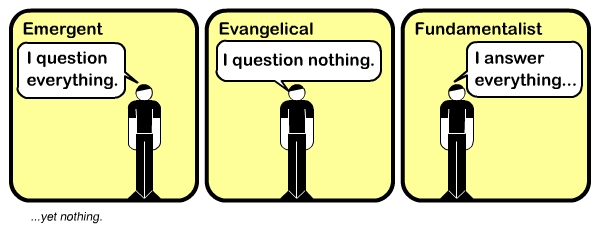 The Finger Mustache Virus
Seth Godin passes on this gem: The local TV element is hysterical, but what I commend you to is the extremely viral nature of the tattoo. By turning something passive (body art) into something active, the item spread like wildfire. (It also helps that it feels like a much smaller commitment than say, an eagle on your back.)
- - - - - - - - - -

This post has been viewed 923 times and was added on September 18, 2007 by Todd Rhoades.


Filed under: Miscellaneous Personal Items from Todd


Share this post with a friend right now!

View reactions to this post at other blogs...

You can really help us out by subscribing to our free RSS feed with your favorite feed reader, or here at Bloglines. Also, you can add us to your favorites at Technorati.




It's easy...
Link to this URL



- - - - - - - - - -
There are 4 Comments: