Don't Like the Vuvuzela? It's the Church's Fault!
Posted on July 06, 2010
Viewed 1117 timess
(2) comments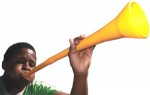 You know that annoying horn, the vuvuzela, from World Cup Soccer fame? Well, word is, that it was really the invention of the church. That's right, the Nazareth Baptist Church of KwaZula-Natal says it is the confirmed originator of the plastic instrument. In fact, it is threatening to take other manufacterers to court to make them stop making the horn.
Great quote from the church about the competition: "They must stop placing orders with these Mickey Mouse companies who are opportunists." According to their spokesman, church members who make the horn have lost income, and the church has threatened sponsors such as Coca-Cola with boycotts should they continue to use it in their marketing.
Also interesting, the company that makes the horns also makes an earplug kit for soccer fans irritated by noise. Genius.
Not so genius: everything else about this story. You can read more here...

Your thoughts?
Todd

Comments
if you want a Globally Recognized Avatar (the images next to your profile) get them here. Once you sign up, your picture will displayed on any website that supports gravitars.
CS

on Tue, July 06, 2010

I would hate to think that the sound of the last trumpet would sound like droning bees…

—
CS

Dicios

on Sat, July 24, 2010

I hate Vuvuzela sound, but the worldcup is finished and now my ears are save.

Page 1 of 1 pages

Post a Comment