Five Essential Leadership Questions You MUST Ask Yourself
Posted on September 15, 2010
Viewed 734 times
(2) comments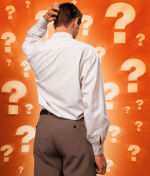 Leading Blog had a very good post recently about five great questions every leader should ask him/herself. It comes from a book called The Mirror Test. Author Jeffrey Hayzlett says the first question you need to ask is not really "How do you lead?" but "Can you lead?" If your answer is yes, then ask yourself the following:
1. Am I acting like myself or trying to be someone else? (Are you trying to be yourself, or Andy Stanley, Perry Noble, or [insert your favorite leader here]?)
2. Can I read the signs in my church and be decisive and do the things every leader must do to succeed? (Are you willing to see what needs to change, and make the touch decisions to change it?)
3. Am I the right fit for what I am doing in my church? Am I doing what I do best? (Do you find yourself doing things other competent people should be doing? Why are you doing what you're doing?)
4. Am I dealing honestly with my employees and making them part of my church? (Is your staff your 'family' and 'team' or do you use them as an means to an end?)
5. Can I eliminate the external (employee) and internal (ego) obstacles that hold my church and me back? (Can you make the touch decisions about your staff and your own ego that keep most churches stuck in the mud?)
Being a good leader means knowing not only your strengths, but also your faults. It means pulling your head out of the sand and dealing with problems head-on. And it means getting yourself out of work and decisions that you are not best suited for. In essence, leadership means that you have to ultimately give up control of many, many things. But not only do you have to give up control, you have to empower those who are many times brighter than you in certain areas to run with the ball. That takes a leader that has confidence in his/her own abilities, but also in the abilities/talents of their team.
How did you do in answering these five questions? What changes could you make today to make a positive difference in the direction of your ministry?
Todd
Comments
if you want a Globally Recognized Avatar (the images next to your profile) get them here. Once you sign up, your picture will displayed on any website that supports gravitars.
Leonard

on Wed, September 15, 2010

These are great questions, thanks Todd for posting these.

Richard

on Wed, September 15, 2010

Question…won't the touch decisions get us in trouble.? No decision necessary. No touch - no touch.

Page 1 of 1 pages

Post a Comment