Is social media taking over your life?
Posted on November 08, 2010
Viewed 578 times
(4) comments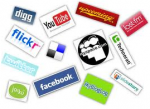 I LOVE social media. I'm a big user of Twitter, Facebook, and love to play around with new forms of social media. But at the same time, i have to keep myself in check. Too much Twitter is a bad thing. And an obsession with Facebook can make you virtuously worthless.
This parody from a Dallas news station makes a great point. Social media is now integrated into the very fiber of our lives.
As pastors and church leaders, we need to harness the power of social media without going overboard.
Anyone who is not utilizing social media (or at least beginning to) will be missing out on a great opportunity to connect with your people.
Take a look at this:
How do YOU use social media? How do you know when you're getting too absorbed? What parameters do YOU have when it comes to social media?
Todd
Comments
if you want a Globally Recognized Avatar (the images next to your profile) get them here. Once you sign up, your picture will displayed on any website that supports gravitars.
Leonard

on Mon, November 08, 2010

Funny, I tweeted this to all my followers, both said thanks.

Becky

on Tue, November 09, 2010

Social media used to rule my life but not quite as much anymore. I love how you say "Anyone who is not utilizing social media will be missing out on a great opportunity to connect with your people." Amen to that, so true. I would personally rather be part of a church that utilizes social media then one that doesn't..time to encourage one of the ones I'm a part of to start.

I know I'm using it too much when I want to tweet ever 2min. Have to start holding myself back sometimes.

rbud

on Wed, November 10, 2010

Good question for some. Twitter, facebook and some others are popping up everywhere. Most of my friends, my kids, my co-workers, all have facebook pages. I guess I should get on board. I've rather much rejected it as an intrusion. I don't watch reality shows, either. I have plenty of reality in my life already. I suppose if I were interested, I could learn, but I don't know how to twit, I don't send text messages since I'd rather talk to people. I tried to send a text yesterday, but couldn't figure out how to put a zero into the message; the zero button only changed the letter-case, but alas, no zero. O well.

Peter Hamm

on Fri, November 12, 2010

It never has, and never will, but it's a great way, as a pastor, to keep up with what's happening with people who are in my church. It's AWESOME for that, as people are so willing to say things on FB that they won't elsewhere. I also block all games, that is a HUGE time-saver.

Seriously, social networking is a gift for pastors.

Page 1 of 1 pages

Post a Comment