Meet Greg Samaritan…
Posted on October 16, 2009
Viewed 367 times
(0) comments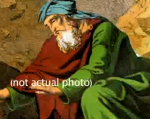 PBS does a great interview with last known decendant of The Great Samaritan.
OK, actually this if from Eric and his bro at Community Christian Church in Naperville, IL. Great creative work here...
Comments
if you want a Globally Recognized Avatar (the images next to your profile) get them here. Once you sign up, your picture will displayed on any website that supports gravitars.
Post a Comment