Monster Sunday School
Posted on April 09, 2010
Viewed 695 times
(5) comments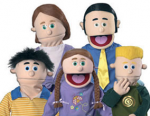 It must be a puppet theme today... what do you think of this?
Maybe we should start a petition. No more puppets. In church. Ever.
Todd
Comments
if you want a Globally Recognized Avatar (the images next to your profile) get them here. Once you sign up, your picture will displayed on any website that supports gravitars.
CS

on Fri, April 09, 2010

That's no puppet show. That's a Ritalin convention waiting to happen.

—
CS

Brian Holt

on Sat, April 10, 2010

We should start a petition - no more BAD puppeteering and creepy puppets in church. If you can't do it like Disney then don't do it at all. That pretty much eliminates 99% of the churches out there so you'll pretty much get your wish Todd.

bn

on Sat, April 10, 2010

I feel the same way about Gospel Mimes - I know it's ministry, but still feel creeped out…

bishopdave

on Sun, April 11, 2010

I kind of liked this one.

stock update

on Mon, November 22, 2010

Puppets give ministry educators a fantastic way to bring in serious topics to kids through metaphors. Some puppet ministry ideas include a skit on stealing and a skit on body image. Teachers can have students laughing as they learn by using these skit themes.

Page 1 of 1 pages

Post a Comment