Oh, Davey!
Posted on March 12, 2010
Viewed 523 times
(0) comments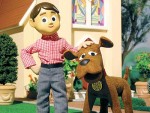 Poor Davey. Did you ever watch Davey and Goliath when you were growing up? I always did. Seems like they were on every Sunday morning before church. Well, in this episode, Dave learns a great lesson about sharing (and about Mountain Dew)...
Comments
if you want a Globally Recognized Avatar (the images next to your profile) get them here. Once you sign up, your picture will displayed on any website that supports gravitars.
Post a Comment