Pastors and How they Use Their Time
Posted on April 13, 2010
Viewed 1897 times
(15) comments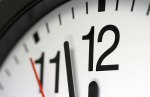 Interesting stats in a new post at The Christian Post by Thom Rainer...
* Pastors of effective churches sleep slightly over six hours per day. Pastors of comparison churches sleep almost eight hours per day.
* Pastors of effective churches spend twenty-two hours in sermon preparation each week versus four hours for pastors of comparison churches.
* The effective church leaders spent ten hours each week in pastoral care compared to thirty-three hours for the comparison group pastors. Pastoral care included counseling, hospital visits, weddings, and funerals.
* Effective church leaders average five hours per week in sharing the gospel with others. Most of the comparison church pastors entered "0" for their weekly time in personal evangelism.
* Comparison church leaders spend eight hours a week – more than an hour each day – performing custodial duties at the church. The typical custodial duties included opening and closing the facilities, turning on and off the lights, and general cleaning of the building.
* Leaders of effective churches average 22 hours a week in family activities. The comparison church leaders weren't too far behind with 18 hours of family time each week.
Hmmm... great questions follow:
How many hours to YOU sleep? (It seems less is better)
How many hours do YOU prep for your message (22 is norm for 'effective' church pastors
How many hours do YOU spend in pastoral care? (Less is better... are you closer to 10 or 33?)
How many hours a week do YOU spend sharing the gospel? (Is it closer to 5 or 0)
How many hours a week do YOU spend with your family?
Are these fair questions to ask? Do they have anything to do with whether or not your church is effective? What do YOU think?
Todd
Here's the link to Thom's article. See what you think...
Comments
if you want a Globally Recognized Avatar (the images next to your profile) get them here. Once you sign up, your picture will displayed on any website that supports gravitars.
Leonard

on Tue, April 13, 2010

Fascinating. I wonder how much time is spent in prayer by both sets of pastors.

CS

on Tue, April 13, 2010

From the article:

"Our study included 101 pastors that we called effective leaders because their churches ranked in the top five percent in conversion growth in American churches. A comparison group of pastors of similar number were leading churches that did not have significant conversion growth."

So, again, the metric for efficacy is church growth. When will we learn that it is more important to have obedience than it is to have growth?

That sort of pragmatism aside, I see things on both sides that need revision here. I believe pastors need to spend more time in pastoral care overall. Yet, I also believe that a pastor who does not actively evangelize directly is not doing his job. And, like Leonard intimated, I believe that pastors should be men of serious prayer time.

—
CS

Leonard

on Tue, April 13, 2010

I believe it is more important to have obedience than growth…

First of all can you site me a biblical reference on this? Actually these are not opposed, but many people see them as such.

As for more pastoral care… I have cut way back over the years. I still do quite my share but more is actually being done due to training people how to do it. (this goes to training people to lead and care for others)

The study piece was interesting… I study about 18-25 hours a week… but to only study 4 hours… no wonder so many people think preaching is boring.

This was measuring churches that are growing through conversion… That is cool.

CS, are you ever able to set pragmatism aside?

CS,

The metric for efficacy was not 'church growth,' but CONVERSION church growth' (please do not see CAPS as screaming, just didn't have a way to highlight that word). To me there is a world of difference in the two.

Acts is all about conversion growth, the great commission is all about conversion growth, Paul's ministry was all about conversion growth. It is kind of in the DNA of what we are supposed to be.

Now I am quick to bash the church growth movement that focused on attractional, seeker-friendly methods rather than genuine life-transforming disciple making. But lets not throw the baby out with the bath water. The church is supposed to grow through the making of new disciples. We can argue whether then the church should plant new churches or become mega, but please don't turn 'church growth' into a dirty word(s).

CS

on Tue, April 13, 2010

Leonard:

"First of all can you site me a biblical reference on this?"

You could always start with, "Ye are my friends, if ye do whatsoever I command you," in John 15:14, if you really want. =)

"The study piece was interesting… I study about 18-25 hours a week… but to only study 4 hours… no wonder so many people think preaching is boring."

I've heard someone say that when you go to preach, speak for 1-3 minutes for every hour of study. I must praise you here, Leonard.

"CS, are you ever able to set pragmatism aside?"

Not when it comes to church matters, my friend. =)

Pastor Shelton:

"The church is supposed to grow through the making of new disciples. We can argue whether then the church should plant new churches or become mega, but please don't turn 'church growth' into a dirty word(s). "

You're right, but here's the catch: if we have a church that is doing everything that the Bible says we should do, is going out, preaching the Word, and yet no one comes to faith, this would be commonly depicted as a, "failure," according to most modern standards for the success of a church. That's why the evaluations for efficacy are so tough to examine, aside from checking the obedience of someone's actions.

—
CS

Leonard

on Tue, April 13, 2010

I could start there but that would be prooftexting… But oh well… I am just picking on you anyway…

I guess the point of what I mean is that we mustn't oppose growth and obedience.

CS

on Tue, April 13, 2010

Leonard:

"I could start there but that would be prooftexting… But oh well… I am just picking on you anyway… "

I know that. That's why I picked that verse in particular. =)

"I guess the point of what I mean is that we mustn't oppose growth and obedience. "

Oh, I am wholeheartedly in favor of growth. Don't get me wrong there. When people repent of their sins and put their faith in Christ, I rejoice at their salvation. And as they join church families where they can learn from the Bible, serve, and be served, it's truly wonderful.

Here's what I oppose in the, "growth," department:

-Metrics that correlate growth and success of a church (correlation is not causation).

-Measuring growth by numbers of chairs filled during worship alone.

-Achieving growth through seeker-sensitive programs and preaching that compromise the truths of the Gospel in the process.

-Having lateral growth by, "stealing," members from other churches for less than noble reasons.

—
CS

JAN

on Wed, April 14, 2010

I found it interesting too that conversion was the yardstick to measure effectiveness, especially since we are in a resort ministry that has had many conversions and baptisms. (in the top 10 for baptisms in our two states SBC convention)

But our church numbers have gone up and down due to movement in and out of our valley.

This has been discouraging for us in some ways. I think if you use church numbers and growth as the measurement, you leave out community issues like ours that may be a contributing factor to church growth

Also, our community is in many ways very hostile to the gospel. We have less individuals who claim to be Christians then does Bangledesh. So, just finding that individual who is ready and receptive takes a lot more effort then say a traditional farm community, where church is at least a value.

As I read through that list I'd say that most of that list is true of my husband (the pastor) especially in evangelism, which I believe is key and in sermon prep.

I wonder how they define effective? I wonder how God defines effective? I doubt God thinks 33 hours in pastoral care is less effective than 10.

I'm afraid that much of what the church calls "effective" today is really more numbers driven, praise driven, task oriented men who care more about preaching on stage to a large audience then loving and caring for people, discipling them, and helping them to truly love God, obey him & love others.

His ways are not our ways. The first shall be last & the last first.

Joey

on Wed, April 14, 2010

"effective" is an interesting word to use. What are these pastors "effective" at? Church growth? Discipleship? Mercy? Hope? Love?

You can have the biggest salt pile in the world but if the salt isn't salty that big pile is worth…...well you know the rest.

Leonard

on Wed, April 14, 2010

Joey and Jesse,
The article stated they were effective based upon conversion growth.

Joey

on Wed, April 14, 2010

Yeah I read through and realized that after I posted. I still question whether or not that is appropriate to measure "conversion" and qualitate it as "effective".

To what are they being converted? How is the Kingdom of God manifesting itself more fully in their midst even as they wait for Jesus' full glory to be revealed?

Again big salt pile scenario.

Leonard

on Wed, April 14, 2010

JAN

on Fri, April 16, 2010

Converted to Christ?

Isnt' this a bit like nitpicking???

Got to say that I am tired of people disectting terms to death when it's pretty much a straight read.

Not trying to pick on you particularly Joey. But the last couple of discussions I've read have gone this direction.

I feel like I'm talking to Bill Clinton "What do you mean by IS?"

Assuming that this is a Christian site, I would assume that conversion means conversion… to a life committed to Jesus Christ.

John

on Fri, April 23, 2010

Wow! I've got lots of questions. What determines what constitutes an effective church? I hope it's God's definition, and not the latest manmade one.
Why is less pastoral care better? Because if the preaching is effective it should invoke seeking, and if one does not know how to seek, the local shepherd should be the key person, even if that doesn't fit into today's CEO mentality.
If a sermon has the anointing of the Holy Spirit then potentially no sermon prep would be more effective than 22 hours of sermon prep if the majority of those 22 hours is in books and on the computer instead of on our knees.
Contrary to how this comment may seem, I am not speaking in ager, but I am weary of the church world and it's trying to measure what is and isn't effective.

Page 1 of 1 pages

Post a Comment