Some Fun: Who's in the house?!
Posted on November 18, 2010
Viewed 1249 times
(6) comments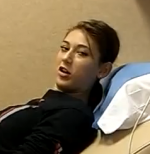 This was an interesting video that is making the rounds on YouTube. I thought it would be fun for today. This poor girl just got her widsom teeth pulled; and she very well may have had just a little too much medication. The first minute is entertaining, but about a minute in, it gets really exciting with a drugged up version of "Who's in the house". Can you guess who?
Comments
if you want a Globally Recognized Avatar (the images next to your profile) get them here. Once you sign up, your picture will displayed on any website that supports gravitars.
Josh Hatcher

on Thu, November 18, 2010

Yeah. She was on the Ellen Degeneres show. It was quite entertaining.

Leonard

on Thu, November 18, 2010

Very funny and today is Thursday… Was I supposed to wait till tomorrow to watch it?

Peter Hamm

on Thu, November 18, 2010

If this had happened to me…

I think I, too, would have wanted to have everybody in the world see me being goofy. No lie… I'm goofy anyway…

Q.

on Mon, November 22, 2010

pretty cute, upon watching it I could only think of one person in my life who would even catch the reference-I guess that's a good thing…

Silke O.

on Mon, December 06, 2010

Please give her a cup of sleep.

Page 1 of 1 pages

Post a Comment