Thom Rainer: Seven Mistakes I Made in Ministry
Posted on June 09, 2010
Viewed 1036 times
(2) comments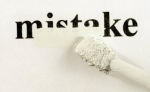 Thom Rainer is the President of Lifeway Christian Resources, and was a pastor for many years. In a recent article, he shared the seven things he wished he would have done differently in ministry. Wise words:
1. I would spend more time in the Word and in prayer. I would follow the biblical pattern of the church leaders in Acts 6:4: "But we will devote ourselves to prayer and to the preaching ministry."

2. I would give my family more time. No one remembers the church committee meetings I missed. My family still remembers those times I was too busy for them.

3. I would spend more time sharing my faith. Paul told the young pastor Timothy to do the work of an evangelist (2 Timothy 4:5). Those words apply to all pastors today.

4. I would love the community where I lived more. I would try to live more incarnationally. I would prayerfully seek to see how I could serve the community rather than see it as a population pool of prospects for my church.

5. I would lead the church to focus more on the nations. I would lead in helping our church grasp that missions is more than just an annual offering.

6. I would focus on critics less. Most church members have no idea how many criticisms and "suggestions" a pastor gets each week. It can be overwhelming and distracting. Though I would be willing to listen, I would not obsess about every negative comment that was made about me.

7. I would accept the reality that I can't be omnipresent. So many people and groups want the presence of the pastor. Saying "no" can be difficult, but it can free the pastor to focus on some of the priorities noted above.
You can read all of Thom's thoughts here...
What were YOUR biggest mistakes in ministry (so far!)?
Todd
Comments
if you want a Globally Recognized Avatar (the images next to your profile) get them here. Once you sign up, your picture will displayed on any website that supports gravitars.
These are right on! As a pastor myself, I appreciate the valuable reminders.

Elle

on Thu, June 10, 2010

I hope a Pastor that need this sees this and uses this to his benefit and I would go farther and say even a person that is not a Pastor can use this especially the last one .

Page 1 of 1 pages

Post a Comment