What's Up with Youth Specialties?
Posted on January 07, 2010
Viewed 1065 times
(4) comments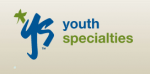 If you've followed the past few month's of news from Youth Specialties, you'll already know that it's been a crazy time there. Changes in leadership (that not many saw coming). Other changes have been made recently that YS is now making public today, including the announcement that they have been acquired and that Tic Long is back in leadership at YS...
Here's some of what they posted today at the YS blog:
The past 12 months at Youth Specialties have been crazy, filled with way too many changes. The good news is that—whew—things are finally settling down and exciting developments are on the horizon! Now—appropriately—you are asking, "What's next?" We've heard you and we're excited to share the latest news.
Youth Specialties is now a part of YouthWorks! On December 16, YouthWorks' finalized the acquisition of Youth Specialties from Zondervan. What does this mean? YouthWorks purchased the Youth Specialties brand—all the events, the websites, the stationary and even the truck that is used to pick up the mail. Zondervan will continue to operate the publishing division of Youth Specialties. In one form or another, Zondervan has been publishing Youth Specialties' stuff for more than 30 years, so we're excited to see that relationship continue.

On the same day YouthWorks purchased Youth Specialties, some staffing changes were made. This was by far the most difficult aspect of the transition, but you can be confident that it was managed with great compassion, care and dignity.

Over the holiday period, a lot of the transition work began. After 40 years of operating as a for-profit business, Youth Specialties is now part of a non-profit ministry. This will certainly shape how we operate and how we serve you, but we're convinced that this will allow us to be even more effective in providing training, resources and encouragement.

Also during this time, we've come to know the YouthWorks' team and we've seen that God's hand has been shaping this relationship for a long time. YouthWorks' purpose is "to help the Church be the Church" by providing life-changing, Christ-centered resources for ministry—it's the Youth Specialties' purpose as well. God has found a great home for our ministry!

What will Youth Specialties do now? The short and simple answer is that Youth Specialties will do what it's done since it was founded. With our full focus on serving youth workers and the church, we will continue to provide world-class events, training opportunities and resources.

He's back—Tic Long has returned to Youth Specialties! In the early years of the Youth Specialties ministry, Wayne Rice and Mike Yaconelli hired Tic Long. For more than 30 years Tic helped lead Youth Specialties and helped pioneer much of who and what the ministry is today. Tic's return as Executive Director of Youth Specialties is effective immediately. Most importantly, Tic has been tasked with leading Youth Specialties forward. His wealth of knowledge and expertise in the arena of youth ministry and his personal passion and love for youth workers will serve as a solid foundation in the growth and success of Youth Specialties.
Comments
if you want a Globally Recognized Avatar (the images next to your profile) get them here. Once you sign up, your picture will displayed on any website that supports gravitars.
Amen, it's always great when we serve and bless our youth leaders!

Ronnie

on Fri, January 08, 2010

Youth Specialties has been a blessing in Malaysia too! May God continue to use YS to influence young lives here and everywhere!

I am from Malaysia. How do you mean a blessing to Malaysia? Wish I heard about Youth Specialties..

Ronnie

on Wed, January 13, 2010

My church and many other churches I know are using YS materials for a long time. I don't know whether you have been to Glad Sounds or Salvation bookstores? Peace!

Page 1 of 1 pages

Post a Comment