Todd Bentley is the new David; His Wife, the new Bathsheba
Posted by:

Todd

Posted on:

Wed, October 14, 2009

Viewed 848
(79) comments so far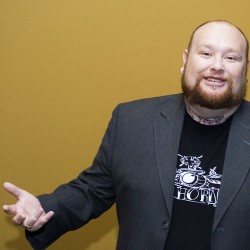 Remember Todd Bentley? According to his 'Restoration' pastor, Todd is the new David. An incredible story of God's mercy and grace. Oh, and Todd's new wife, Jessa, is the new Bathsheba.
"David repented and God restored him... didn't make him stop being king or anything!"
"Jessa is the most perfect woman in the world for Todd." And when she meets old friends of Todd and Shauna (Todd's first wife), it's uncomfortable.
Here's a synopsis of Jessa's introduction to the world.
She started at the booktable. Then became an intern. Then she became a nanny for Todd and Shauna. She became friends with Todd. She knew that Todd and Shauna were working through marriage difficulties. And when Todd's marriage broke, she'd hang out with Todd in a group. He was a leader she respected, and watching his marraige crumble was hard for her. Todd was crying a lot. "I comforted him." "I held him when he cried". Through that, something did spark. But only after the separation and papers were filed. Then it hit the public. It was wrong. It was a sin. It was a mistake. I don't regret marrying him, but want to repent for the sins along the way. We made a huge mess. I want to repent. We should have waited 6 months to a year after the divorce. I was deceived, and tried to justify it; but in hindsight, it was wrong. We were wrong and are trying to make things right. There are consequences that we will pay for the rest of our lives.
Todd Bentley: "We blew it... here it is". Jessa's been an incredible support to me... an anchor.
Shauna has forgiven Todd and Jessa, and was the first to congratulate them on their marriage. Todd and Shauna get along better now than when they were married.
Now, because of what he has with Jessa, Todd is ready to continue on with what God has for him. That's ministry, I assume.
Watch the video here... I'd love to hear your thoughts...
Todd
Comments
if you want a Globally Recognized Avatar (the images next to your profile) get them here. Once you sign up, they will displayed on any website that supports them.
Leonard

on Wed, October 14, 2009

no Todd, you really don't want to hear what I an thinking at this moment… ugh

bishopdave

on Wed, October 14, 2009

Been reading a book on how frustrated John Adams and Benjamin Franklin were with the hypocrisy they saw in the church in their day. Yet they still thought religion, when "properly practiced," was a great boon to mankind.

It's a wonder sometimes that God is able to get anything done through His church.

Is forgiveness a mighty act of the grace of God or an excuse for irresponsibility?

How do Todd's kids like their "other mother"?

bishopdave

on Wed, October 14, 2009

I wonder if Bathsheba and David are ready for a child to die and the sword to never leave their house.

Bob Hyatt

on Wed, October 14, 2009

There's something about those who demand or expect grace that really seems backwards. Grace is what we don't deserve. And acting like you deserve it turns it into something else entirely

Gary Humble

on Wed, October 14, 2009

Wow. On one hand, I get what they're saying here. And no doubt, God's mercy is greater than we as humans will ever be able to comprehend. I'm convinced of that.

The problem I have with this whole thing is the need in the charismatic church to raise up a "man." I've been in these circles in the past and it's always about a man, or "God's anointed."

What I see here unfortunately is "anointing" overshadowing character and integrity.

Dave

on Wed, October 14, 2009

She says in the video on the source page "the timing was sin and I want to repent but I don't regret anything in having a relationship with Todd". I know that repentance is not the same as regret, but is repentance possible without regret? Which leads to another question "Is restoration possible without repentance?"

Steve

on Wed, October 14, 2009

I am concerned. Not about what I and other believers think about this. We must forgive if we want to be forgiven. But I'm really concerned however, over the people looking in from the outside who see just another church/ministry/televangelist fiasco. I'm concerned for the former wife (whom we didn't get a chance to hear from.) I'm concerned for the children left behind for the cause of the ministry (and of course a better marriage.) I'm concerned for the millions of world-wide viewers who now get the impression that if your willing to pay the price of sin, you can freely sin and do pretty much what YOU want to. I'm concerned over the message being sent out that ministry takes precedent over marriage. In other words, if my spouse is a hindrance to my ministry…just get rid of them and get a better one. (Man, how many times have we seen that.) I'm deeply concerned over all of the residual fall-out that lingers much longer than just a year or 2 after the fiasco. Many people are left hurt behind. I'm deeply concerned over the attitude "I've repented, I've been restored, and if that offends you…tough." I'm concerned over one more thing, Todd Bentley is not King David.

Comparing him to David is insane. Lets get honest here. God can do anything and can work out any situation. No matter how hard his 1st marriage was he could have worked it out and God could have healed it.
People need to stop justifying this. It is blatant selfishness pure and simple.

Can anyone explain this verse to me and how it relates ?

Luk 16:18 "Everyone who divorces his wife and marries another commits adultery, and he who marries a woman divorced from her husband commits adultery. (this verse is really geared to Israel and they where always trying to get around this) cf Mat 5:32, Mark 10:11-12

Repentance = Saying sorry I messed up but I am still with the lady I cheated on my wife with. In fact we are married now please support my ministry, yes I am still King.

or does

Repentance = Acknowledging the sin as wrong and not doing it anymore. (Especially not marrying the lady you slept with)

No one is David, again. That story line is already taken and only the most arrogant would associate their story of personal moral failure with David's. The rest of their explanations sound too convenient, and cavalier. But then Todd's "ministry" was one of extremes anyway. He and Ted Haggard ought to compare notes on their restoration process.

slw

on Wed, October 14, 2009

No way, no how, not a snowball's chance in Hell!!!!

CS

on Wed, October 14, 2009

Todd Bentley:

Please repent of your sins, step away from being anywhere near the pulpit, quit hitting people, and get back in line with where God wants you to be.

Signed,

The Church

—
CS

Peter

on Wed, October 14, 2009

I'm just wondering…

Have any of the people who think he shouldn't be in any position of leadership because of his mistakes and sin actually asked God's opinion.

In the end, it doesn't matter what man thinks, if God has called him back to the pulpit then the pulpit is where he should be - and we should all get over ourselves and actually let God be in charge for once!

CS

on Wed, October 14, 2009

Peter:

"Have any of the people who think he shouldn�t be in any position of leadership because of his mistakes and sin actually asked God�s opinion.

"In the end, it doesn�t matter what man thinks, if God has called him back to the pulpit then the pulpit is where he should be - and we should all get over ourselves and actually let God be in charge for once! "

Here's God's thoughts on it from 1 Timothy 3:2-7, with my notes in brackets:

"A bishop then must be blameless, the husband of one wife, temperate, sober-minded, of good behavior, hospitable, able to teach;

[He's divorced after an adulterous affair. He acts like a raving nut on stage.]

not given to wine, not violent, not greedy for money, [fn] but gentle, not quarrelsome, not covetous;

[He admitted to being drunk, he hits people on stage, and speaks crassly.]

one who rules his own house well, having his children in submission with all reverence

[One wonders about the state of his house.]

(for if a man does not know how to rule his own house, how will he take care of the church of God?);

[Would you trust Bentley to care for your church?]

not a novice, lest being puffed up with pride he fall into the same condemnation as the devil.

[From what I recall, he went very quickly into the ministry following his conversion testimony.]

Moreover he must have a good testimony among those who are outside, lest he fall into reproach and the snare of the devil.

[Few people in the larger church would have good words to say about him.]"

So, I can say that by looking in the Bible, that God's opinion of Bentley is that he is not qualified for leadership in the church.

—
CS

Peter Hamm

on Wed, October 14, 2009

Leonard

on Wed, October 14, 2009

I asked 627 of my 700 concubines if he was my daddy and they said no. He's not your daddy.

Page 1 of 6 pages 1 2 3 > Last »

Post a Comment