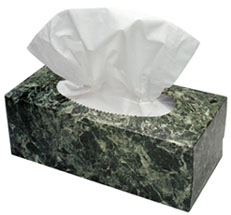 Church Video Ideas: A Lesson from the Kleenex Company
Orginally published on Wednesday, January 31, 2007 at 8:46 AM
by Greg Atkinson


Have you seen the new Kleenex commercials? They are amazing! When I saw my first one, I just sat there in stunned silence with tears in my eyes. Inside I was screaming, "Yes! Yes! That's what the Church is supposed to be about." The campaign is called "Let it Out". If you haven't seen it, let me describe it to you.
The Kleenex company went out on the street, plopped down a couch and a man (who is a great listener), and of course, a box of Kleenex. The man simply invites people to take a quick break, sit down on the couch and talk with him. It's amazing to see the number and diversity of people that sit down and just start sharing all sorts of stories and memories with this complete stranger, whose only credentials are a gentle invitation, a pleasant demeanor and a listening ear.
Male and female, young and old, black and white, they all stop, sit down and begin to open up to the "Kleenex man". Some people are rejoicing and telling funny or nastalgic stories. Some are truly in need of Kleenex and start to cry as they share their most painful, intimate and usually private feelings with this host.
As I mentioned, I was emotional as I watched the 30 second commercial. I found myself wondering why the commercial so resonated with me and got me all choked up. I guess it's the reality that we all hurt, we all love, we all grieve, we all experience life's curve balls and pain, and sometimes, even with a complete stranger who brings a couch to a busy street corner, we just want to vent, remember, laugh, cry, and as the campaign says, "Let it out." To see the short US version click US version. To see the short UK version click UK version.
In the world of church media, hitting the streets with a camera is nothing new. Many professional producers and filmmakers have been selling on-the-street interviews for years. Many churches have gone out and made their own on-the-street interviews. Seeing these commercials gave me fresh ideas on how to approach this in the future. Instead of walking up to people and asking them a preplanned question such as "Who is Jesus Christ?" or "Who goes to Heaven?" or "What is grace?" (these are videos that I've seen before); what if we were just available? What if we brought a couch and plopped it down? What if we asked less obvious questions; questions that aren't so blatantly spiritual. Questions like: "What's your most painful memory?" or "Tell us a funny story." or "Describe a landmark day in your life", etc.
I don't know. Maybe it's just me. Maybe no one else resonates with these commercials. But if you do, if you see the beauty and wonder of these commercials and get a little choked up yourself, I encourage you to press in deeper. Ask yourself why these commercials move you. Look beyond the ad and to the concept. Reflect and chew on what takes place in these ads. One man as he's beginning to cry says, "I don't know where this is coming from." We, as Christians and Church leaders, know that we are wired for community and it's healthy to do life together. These people and the Kleenex company affirm that realization without even approaching it from a spiritual perspective.
As I'm wrapping this article up, I just watched the US commercial again. Again, I teared up. The host in the commercial never says a word; he simply sits and listens. He allows them to share whatever they want and validates their pain or joy by the expression on his face. I wish I could better put in to words what I feel in my heart. What I see in the commercial is a safe place. A place for people to sit, share, laugh and cry, without any agenda. There's just a gentle encouragement to "let it out".
What if the Church really welcomed all (young, old, men, women, black, white, thieves, liars, adulterers, homosexuals, etc.) with open arms and embraced them with a hug and an encouragement to "let it out"? What if we, as the Church, seeked to be a friend, a support and a listening ear? I believe the local church is the hope of the world. I believe God works through local bodies of believers, but wouldn't it be amazing, powerful and revolutionary for the Church to leave its four walls, set out a couch on the street and just listen to people's stories as they pass by? I'm reminded of the old, but true saying, "People don't care how much you know, until they know how much you care."
©2007 – Greg Atkinson (www.churchvideoideas.com)

Used by permission from author. All rights reserved by author.

Greg Atkinson lives in Dallas with his wife and their three small children. Greg served previously as the Director of WorshipHouse Media, after having served as a worship pastor for 11 years. He is the Founder of Multisensoryworship.com and Co-Founder of Wasteland Creative, where he continues to consult, teach and write about worship, media and creative communication. You can connect with him through his daily blog, Church Video Ideas, his podcast, Creative Synergy, or his email: .


This post has been viewed 10187 times so far.


There are 3 Comments: