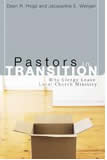 Pastors In Transition: Why Clergy Leave Local Church Ministry
Why do pastors leave the ministry? Several common issues emerge from the research of Dean Hoge and Jacqueline Wenger: preference for another form of ministry, the need to care for children or family, conflict in the congregation, conflict with denominational leaders, burnout or discouragement, sexual misconduct, and divorce or marital problems. Of these factors, which form the basis for the central chapters of Pastors in Transition, two are especially important: conflict and a preference for specialized ministry. A close third is the experience of burnout, discouragement, stress and overwork. As the authors explore these factors, they provide significant insights into what can be done to help people stay in ministry.
Hoge and Wenger's study is part of the larger Pulpit and Pew research project on the state of pastoral ministry, based at Duke Divinity School and funded by the Lilly Endowment. Hoge has authored two previous volumes (one coauthored with Wenger) on the status of the Catholic priesthood.
(Review from David Wood at The Christian Century)
There are 39 Comments: