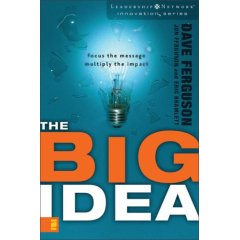 Hey… What's the Big Idea?!
Question for you. What do you remember about your church service this past weekend? What was the message about? (For those of you senior pastors, hopefully you remember!) What songs did you sing? What is your biggest thing you took away from your service? Quickly now... what was it? Truth is... if you have a hard time remembering much about last weekend's services, just think how hard a time one of your attenders has. How do you communicate truths that remain on people's minds throughout the week? That's the whole subject of the new book: "The Big Idea" by Dave Ferguson, Jon Ferguson, and Eric Bramlett...
Here's the premise of the book: Most churches try to communicate too many mini-messages during the course of a service. Each Sunday, most families get multiple mini-messages communicated to them; and guess what… they remember VERY LITTLE.
Here's a short segment of the book to prove this point:
Let's start with a typical Sunday as a family returns home from church. 'The question posed to the children is the same every week: "So what did you learn today?" And the response is too often the same: (Silence.) "Ummm ..." (More silence.) "Ummm ..." (Still more silence.) "Ummm..:"
Parents have tried to think of different ways to word the question for their kids, but it always comes out the same. "So what did you learn today?" It's not the most enticing question, but it's the question that gets asked millions of times every week during the car ride home from church. And the truth is, if our kids asked us, we might give them the same response.
How is it possible that so many people, young and old, can respond with nothing but silence to such a simple question after spending an entire Sunday morning in church? Is it too little teaching? Is it too little Scripture? Is it too little application of Scripture in the teaching? What's the problem?
Well, let's review a typical experience at church. Is it too little or maybe too much? The average churchgoer is overloaded every week with scores of competing little ideas during just one trip to church.
Let's try to keep track.
1. Little idea from the clever message on the church sign as you pull into the church parking lot
2. Little idea from all the announcements in the church bulletin you are handed at the door
3. Little idea from the prelude music that is playing in the back¬ground as you take your seat
4. Little idea from the welcome by the worship leader
5. Little idea from the opening prayer
6. Little idea from song 1 in the worship service
7. Little idea from the Scripture reading by the worship leader
8. Little idea from song 2 in the worship service
9. Little idea from the special music
10. Little idea from the offering meditation
11. Little idea from the announcements
12. Little idea from the first point of the sermon
13. Little idea from the second point of the sermon
14. Little idea from the third point of the sermon
15. Little idea from song 3 in the worship service
16. Little idea from the closing prayer
17. Little idea from the Sunday school lesson
18. Little idea from (at least one) tangent off of the Sunday school lesson
19. Little idea from the prayer requests taken during Sunday school
20. Little idea from the newsletter handed out during Sunday school
Twenty and counting. Twenty different competing little ideas in just one trip to church. Easily! If a family has a couple of children in junior church and everyone attends his or her own Sunday school class, we could quadruple the number of little ideas. So this one family could leave with more than eighty competing little ideas from one morning at church! And if we begin to add in youth group, small group, and a midweek service, the number easily doubles again. If family members read the Bible and have quiet times with any regularity, it might double yet again. And if they listen to Christian radio in the car or watch Christian television at home, the number might double once more. It's possible that this one family is bombarded with more than one thousand little ideas every week explaining what it means to be a Christian. No wonder when the parents ask their kids, "So what did you learn?" the answer goes something like this: (Silence.) "Ummm. . ." (More silence.) "Ummm ... "
(Still more silence.) "Ummm..."
We have bombarded our people with too many competing little ideas, and the result is a church with more information and less clarity than perhaps ever before. But the church is not alone in its predicament. Businesses also get distracted with lots of little ideas and forget the Big Idea. Many marketplace leaders are relearning the importance of the Big Idea in regard to advertising. It was a multimillion-dollar sock-puppet ad during Super Bowl XXXIV that epitomized the absurdity of the advertising during the dot-com bubble.
Don't misunderstand - this is not a rant against entertainment or churches that are entertaining. I actually think churches should be more entertaining. But that's a rant for another book. This is a rant against churches (and businesses) that don't discipline themselves to create experiences that convey and challenge people with one Big Idea at a time. Why? Because the lack of clarity that we give our people impedes the church's ability to accomplish the mission of Jesus. "More" results in less clarity.
Dr. Haddon Robinson, in his classic book Biblical Preaching, recognizes the simple truth that more is less and challenges teaching pastors to communicate with crystal clarity "a single idea." He says, "People in the pew complain almost unanimously that the ser¬mons often contain too many ideas."' Robinson is right on. And it is good news that people are complaining. Their complaints about too many ideas tell us that people in the pew want clarity, direction, and guidance in how to live out the mission of Jesus Christ. We can no longer afford to waste another Sunday allowing people to leave confused about what to do next. So let the change begin! But this change can't be relegated only to the preaching. It also must happen in the teaching of children, students, adults, and families and in the overall experience of church life. How? The Big Idea.
And it is one Big Idea at a time that brings clarity to the confusion that comes from too many little ideas.
How is your church doing in communicating "Big Ideas". You could be, without even thinking about it, be sending way too many ideas to your congregation… you may be bombarding them with so much good stuff that absolutely nothing sticks.
If you find your church in this situation, then this book is a must-read. You'll find practical ways that you can focus your message into something that people can apply and remember. You're in the life-changing business, and you just can't change as many lives when the people you're trying to reach forget what you told them before they eat dinner.
Order the BIG IDEA Here...
Todd
- - - - - - - - - -

This post has been viewed 1106 times and was added on February 22, 2007 by Todd Rhoades.


Filed under: Leadership Issues Leadership Development


Share this post with a friend right now!

View reactions to this post at other blogs...

You can really help us out by subscribing to our free RSS feed with your favorite feed reader, or here at Bloglines. Also, you can add us to your favorites at Technorati.




It's easy...
Link to this URL



- - - - - - - - - -
There are 8 Comments: